Computerized 3D Wheel Alignment
---
Four Wheel alignment, sometimes referred to as tracking, is part of standard automobile maintenance that consists of adjusting the angles of the wheels, this is to ensure that your driving and braking is safe and straight and your tyres wear evenly.
V3400 Wireless Imaging Wheel Alignment System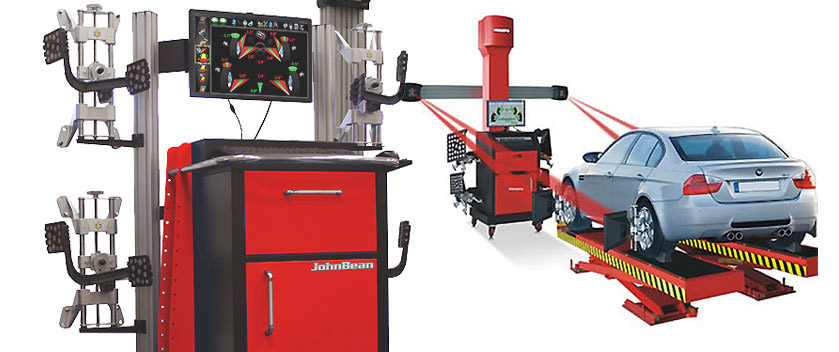 Here's the problem
Around one in three cars and vans on the road today have at least one defective or badly worn tyre, according to the Tyre Industry Council, Britain,s foremost safety organization. Not only are such tyres unsafe, they are also illegal.
Properly adjusted wheel alignment can
Make your vehicle handle better
Reduce tyre wear
Improve fuel economy
This means
You drive more safely
You benefit the environment
You save money
Here's the solution
Computerized 4-wheel alignment provides accurate results, so much so that it is the only alignment technology approved by car manufacturers. Technicians in this wheel center are fully trained in the use of this equipment. The system used in this wheel service center references all manufacturers specifications and custom database
John Bean AC400 Touchless Alignment Wheel Clamping System With XD Targets
Secure Clamping Without Touching the Rim
Only the tire is contacted.
Clutch limited clamping force ensures accurate and repeatable results.
Durable and lightweight magnesium construction.
Fast and Easy to Use
Clamping is accomplished with a single fast-action knob.
No accessories needed to accommodate the full range of tire sizes.
Large, comfortable handle allows ergonomic use.
XD targets are lighter and take up less space than previous designs.
Additional Features
Clamping on the Tire - The clamp only engages the tire eliminating contact with the rim.
Fast - Single point adjustment knob adjusts to the full size range in just a few turns.
Ergonomic Design - Large handle and intuitive tightening knob are easy to operate and accomodate gloved hands.
Self Centering Design - Allows measurement of cross diagonal and tire rolling radius to reveal collision damage and mismatched tire sizes.
Lightweight and Durable - Drop tested cast magnesium construction eases the weight that users have to carry.
Accurate and Repeatable - Secure clamping delivers accurate and highly repeatable results.
Secure - Clutch limited clamping force ensures consistent and secure attachment.